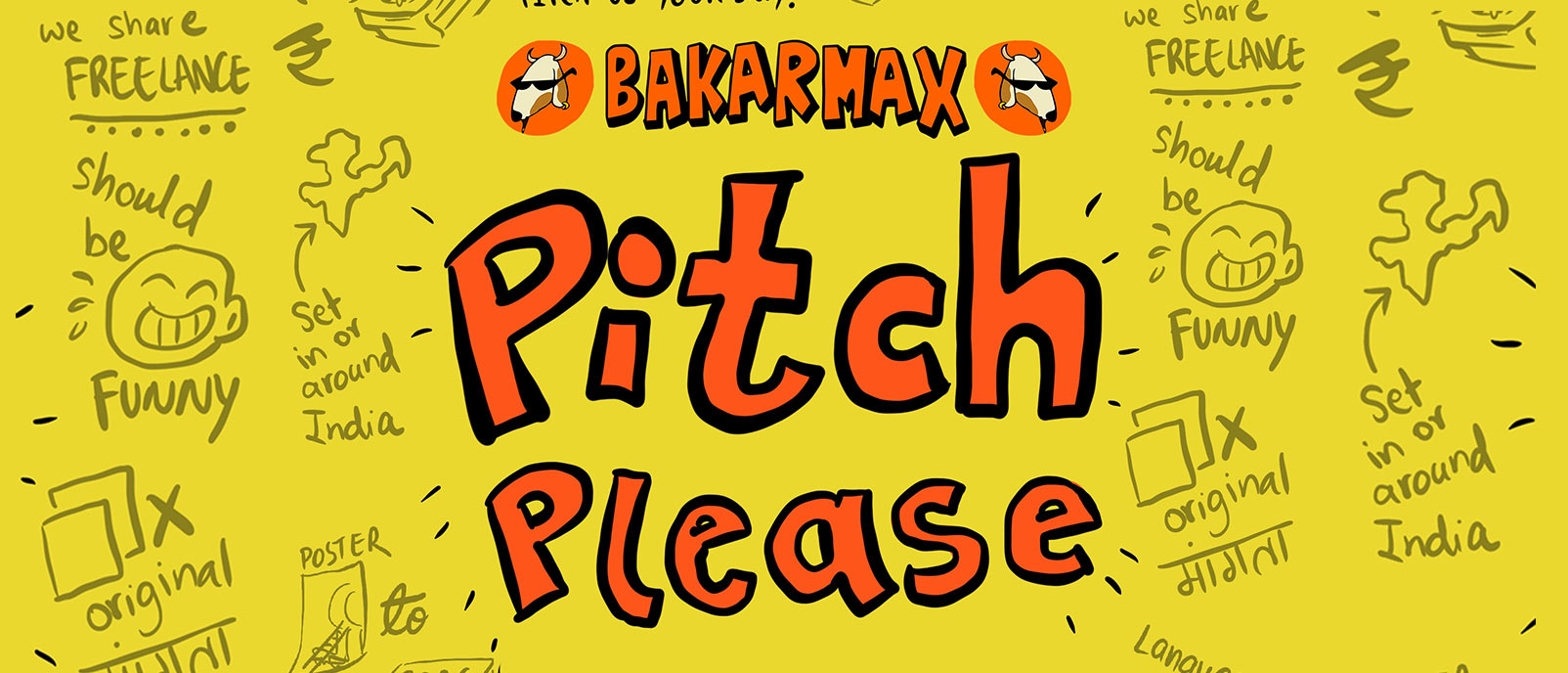 One email for everything: 
Bakarmax is built on collaboration. Multiple authors publish their comics on Bakarmax. Some of them are recognized cartoonists who just want to collaborate to create something of off-beat and some of them are interns who have to go through this process as part of their internship.
STEP 1: WHAT WE OFFER
BAKARMAX DOES NOT PAY YOU FOR PUBLISHING WITH US. We pay back in different ways though
Copyright: Authors own the copyright to their work on Bakarmax.
Bakarmax Originals: If you make a comic with us and it really performs. Literally outshines every single comic out there on Bakarmax, it becomes an automatic contender for Bakarmax Originals – where we help develop your comics as an animated series. More about it here.
Discipline and Editing: We finish what we start. Once we accept your pitch, we will work with you to make sure that we finish what we start and that in the end, reads smoothly. In the past, we have funded research trips, supported with colouring, provided research material for our contributors. We don't celebrate procrastination.
Projects: At the root of Bakarmax is the idea of an independent cartoonist, working from a comfortable home studio, dying to tell their absurd-funny story, sustaining themselves with freelance projects. As soon as you publish with Bakarmax – you join our pool of talent. We consider your skillset and talent a part of our offering. Whenever we find an assignment that fits you – we send it to you.
Presence at all Comic Cons: Bakarmax exhibits at all Comic Con India and Indie Comix Fest. If you have a story published on Bakarmax and can manage to send us printed copies – we can take it to any event we visit. We can also keep your comics at our online stores on Instamojo and Amazon.
Pitching: We regularly pitch all Bakarmax comics for adaptations in Animation and other mediums. When potential buyers look at one idea – they might stumble upon your work too.
Licensing: Many businesses license Bakarmax comics. Businesses like Firstpost and Bingo chips. The payment goes straight to the authors – the majority of it. We're pivoting every month to figure out new ways for your comics to earn.
STEP 2: BAKARMAX KIND OF STORY
Cartoonists: Bakarmax works with cartoonists who want to tell stories. People who can write and draw their own stories. Writers or Artists can pitch as a team. We are open to collaborate with animators too if their stories are interesting.
Story: The best way to gauge what we want is to read Bakarmax. That's what we want. We are open to anything as long as its funny too. think – horror, political, tribute, sci-fi, memoir, period.
Drawing quality: It is not important. We feel that we are surrounded by too many good artists and too few writers. If your skills are basic but your story is solid – it will work.
Tech: Being a webcomic, we can do a lot with technology, which is not possible with regular publishing. we can show alternate endings to the same story. we can show the same comics in multiple languages. We can play sounds. Add GIFs. Make small animated pieces.
Language: Bakarmax happily accepts comics in vernacular languages. We have already published comics in English, Hindi, Malayalam.
STEP 3: SUBMISSION PROCESS
Submission material: You can submit your comic in any phase of development – Idea, Rough sketches, Rough pages, even finished comic. Once we get your pitch, we reach back to you. Put it together and send it to whodis(at)bakarmax(dot)com
Mere paas ek idea hai: if you have a brilliant idea and are looking for someone to draw it for you. Please find your artist for yourself. we won't draw your Lord of the rings for you.
Plagiarism: Bakarmax has zero interest in stealing your idea. If you are a novice worried about stolen ideas – Please do not pitch. Similarly, please do not pitch other people's ideas. If your submission is an adaptation, tell us so.
Exclusivity: Once you have sent your idea we will go over it. If it's selected we guide the comic to completion with you owning all the rights to the comic. There's just one catch – The developed comic can be published online only on Bakarmax. This is called exclusivity and it's simple – If you publish your comics in 10 other places, why would anyone come to Bakarmax to read it? As the copyright owner, you can do everything with your story – make a TV show out of it, publish it as a book, make toys, use the same characters to tell 1000 more stories which you can publish anywhere. But when it comes to online publishing this particular comic – Readers will only find it on Bakarmax.
Excerpts: Bakarmax also proudly publishes excerpts. If you have a published graphic novel and want to publish an excerpt and link it to your book, let us know.
Exceptions: Having said all of this, the world is built on exceptions. All these terms are negotiable.
We accept your pitches over email, Facebook messages, Instagram, Twitter, chai ki dukaan, DCKS meetups etc etc etc.