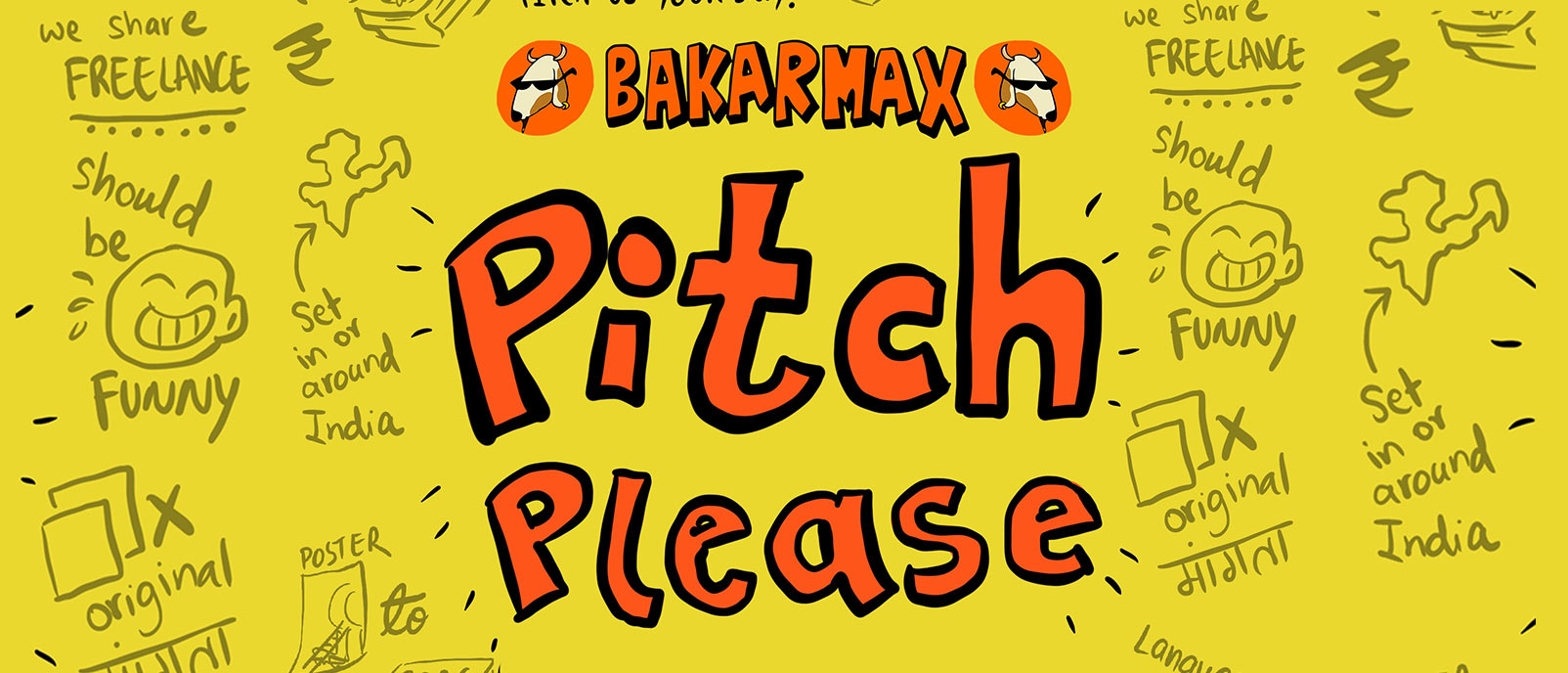 One email for everything: 
WELCOME TO PITCH PLEASE!
At Bakarmax some of the best ideas have come from the internal team but also from interns and contributors. Karejwa – our highest performing comic so far was illustrated by Ankit Kapoor, an ex-intern and contributor. We have so far published comics by more then 40 contributors and some of them have worked with us on paid projects.
As soon as you publish with Bakarmax, you are also introduced to the larger Bakarmax family – our team, our contributors, ex-interns, our clients and our most important of all Bakarmax fans – We reach over a lakh people through our various channels.
Another key support we have is – we take high performing comics to Animation. We pitch it to brands and OTT platforms using our 37K Youtube subscribers as leverage(Haven't subscribed? Do it now!). A good example of this is the Char Ram film we made with Digit
The Editorial process – In the olden times, creators used to work with editors. People who gave feedback, suggestions and helped polish your idea. Today, the creator works with best guess, which is not always right. We at Bakarmax believe in the editorial process and its power to improve your content. If you pitch to us, an editor will collaborate with you to in making the comic
Currently, Bakarmax does not own copyright over your content. And we do not pay contributors. Exceptional cases have been there for high performers and ambitious projects.
How to pitch
Please feel free to pitch an idea at anytime.
1. Accept terms of submissions by clicking here.
2. Follow us on all socials
3. Buy us a coffee
4. Pray to your god of choice.
5. For comics: Submit the concept – 1 paragraph or less, rough 1 piece of rough art also mention length (small poster, IG comic or long form)
6. For Animation: Submit the concept note – 1 paragraph or less, Storyreel or 1 key art (finished) also mention length (reel, short film, feature, series).
7. New media: Design, VR, Gaming. Although this territory is unknown but we are keen to explore. Pitch with concept note, rough art and final product implementation idea. Also suggest if you have an SME (Subject matter expert)
8. Pitches should be sent to whodis@bakarmax.com
FAQ
1. Who approves? Once submitted, one of our three editors has to say yes – Sumit Kumar, Mukund Sharma or Rachit Varma have to approve.
2. If rejected? You can also find funding through a sponsor/brand. In case you have some interest from someone. You can prove us wrong and we will happily work with you.
3. What gets easily approved (and paid) – using existing characters, chapter 2 of existing stories, small comics, desi touch, local language, references, sharp comedy
4. What about original comics – Pitch like crazy. We love originality. We want to discover and support diverse styles.
5. What is difficult to approve (but not impossibe) – Animated shorts, long comics, series.
6. Does it need to be funny? No, but in that case it has to be fantasy or highly imaginative – like Karejwa.
7. Why editors? Because its not social media. we believe working with an editor polishes your story skills into something better. Everything serves the story in the end. Slave to the story.
Due to high level QC and Less resources – Rejection rate will be high.
Don't take it to heart. Keep pitching. Life is a Pitch.
Bakarmax is built on collaboration. Multiple authors publish their comics on Bakarmax. Some of them are recognized cartoonists who just want to collaborate to create something of off-beat and some of them are interns who have to go through this process as part of their internship.
Life is a pitch!