THIS COMIC IS NOW AVAILABLE IN PRINT
During this trip to Shillong on New Year's eve 2014-15, I saw Lou Majaw in Cafe' Shillong…..INSERT FLASHBACK…..A less pessimistic Sumit and his friend Shashank are trying to reach out to the organiser of Bob Dylan festival, Lou Majaw. They want to make a website for them, for free…..BACK TO PRESENT…. I went up to him and introduced myself.
When I told him what I do, he asked me to draw something quick based on my experiences. He bought me paper and pen, and sat down to discuss this with him, he agreed with some, and added context to many. And I was showing off my celebrity friendship by end of the day to my friends and anyone I remotely knew.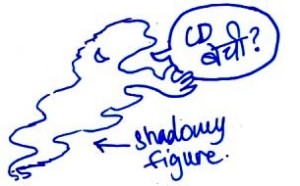 After I came back from Shillong I called up this Music industry friend, and told him about meeting Mr.Majaw. He asked me a simple question.
Shadowy figure: Usne CD bechi apni tereko? smoothly conversation karte huey apni CD pop ki beech mein? hain?
FLASHBACK….RETURN TO PRESNT…
Me: Haan, to kya…par …theek hai na…cool sa aadmi hai….
Shadowy figure: Bechi thee na? hain na? bechi thee na? bol bol?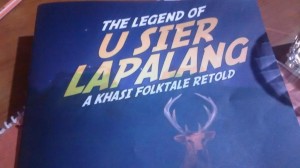 Also, in Shillong I met Joshua who has written the first comic book based on a Khasi folktale called 'U Sier Laplang'. We had long discussions were he shared the first comic books published in Meghalaya – from 1987 – Written and drawn by an architectural draftsman.
Joshua's book 'U Sier Laplang' was released by Orijit Sen. Epic comic supportive aadmi Mr.Sen is. (Meanwhile, Comic Con India staff transfers 50 Billion USD to an American actor to make an appearance.)
There's much more to Shillong than what I've mentioned in this comic. Specially the spooky local folktales, beautiful houses and country liquor. Jug jug jiyo Shillong.